The puppy academy is composed of puppy and dogs socialization classes  during the cooler month on Saturday mornings. Any puppy who has received his first set of shots can attend.
Location: 255 Orange Boulevard, at the Integrative Animal Hospital, in Sanford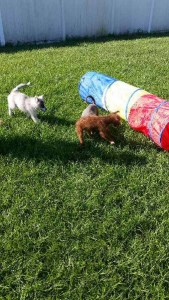 During the "sensitive period" of 4 weeks old to 16 weeks old (sometimes, 20 weeks), your puppy's  brain is an open book and it is very receptive to many experiences as long as they are done without fear or intimidation. You the  owner will learn to teach your puppy how to expose him in the right way to different stimuli through positive association. Through force free training, your puppy will also start to learn  basic obedience that will shape the rest of its life. Your bond and relationship with your pooch will become stronger.
We will teach him to like water and swim. He will learn to come back to you on recall while he is off leash. Playing is also a big part of the class and every dog learns to play nicely. If your dog wants to come just to socialize great! A lot of our former students still come just for fun. This class is also very effective for dogs with anxiety and social fear. The atmosphere is very low key.  After these sessions the dogs are tired and happy which means that Mom or Dad have FREE TIME for them.
Each class is $ 40.00
Puppy first tunnel                                                                               My first crab encounter
Tired puppy Jackson after class.