Catherine,
You said that Kindness goes a long way.. To tell you the truth, when we got Curly, we used rolled up printer paper to spank her butt, when she misbehaved. But it made it worse. She would try to bite us and bark at us, when we spanked her butt, then u came along, and we NEVER used the rolled paper again. We used kindness and rewards instead and the results have been amazing!. I think this is the reason we have been able to trust her at home alone at only 4 months old!. We can never thank u enough!. I remember at the beginning I was so stressed I was ready to give her away. She is such a beautiful and smart puppy, especially compared  to the scary stories I have heard from other puppy owners and what they've have been going through with potty training and chewing up furniture. Catherine Thank U we will never forget U. And U were so right I totally agree that it is the owners that need training not the puppies. Just like you trained me…I was so LOST and didn't have a clue that I could create such a wonderful well behaved dog.
Marie, Orlando 1/2017
Hey there. I wanted to let everyone know about how great Cathie is! I called her last Friday because my 10 year old boxer/bull-mastiff and my 2 year old Pitt-bull girl were becoming extremely aggressive and getting into terrible fights! It would take three of us to separate them and a constant struggle to keep them separate. Knowing that I could not live with this but could not get rid of them either, I was at my wits end. She (Cathie) came out here and within the 30 minutes theory were both outside at the SAME TIME and NOT ripping each other apart. Currently as I write this both girls are laying together at my feet IN my house. It is truly amazing. She teaches and trains YOU to act the right way and the destructive problems disappear.
Please before you get rid
of your problem dog call Cathie. You might be surprised to learn you may actually be causing (will allowing ) the problems. This does really work! Oh she is real affordable as well! And only took the ONE session!    
Amber | January, 2009
Dear Cathy,
 I've had coworkers request more information about your services but I can't for the life of me understand your handwritten web address on the back of your card.  Please let me know what comes after the first dot J
 Since your visit, (except for the following day, when it rained and rained and rained) we have been walking for an hour each morning.  I feel great.  We've walked with and without Lila, with and without Jasmine and in Precious's case, with and without the leash, as she seems perfectly capable of slipping out of anything I put around her neck.  Shadow's aggression towards Precious is pretty much a non-issue now, Bella still responds with shocked disbelief when I "bite" her for being impolite towards the rest of the pack, but the loud, out of control 'intruder alert' barking has diminished enough that people who visit my end of the house mention the positive change often.
There is still a lot of work to do.
Thank you for helping me help my dogs.  I'll be seeing you again soon;  have a wonderful holiday!
Donna Benham 12/09
You seem to have the right understanding of us and always have the right words I need to hear. You are truly the female version of "The Dog Whisperer". Thank you for hanging in there in there with us."Linda | Winter Park  | 03/5/09
I just wanted to  put up a posting about a fantastic experience,
I've had recently with Cathie Harvey.
I called Cathie after my dog, Autumn, tried to bite a stranger. I needed help fast ! She was immediately available and was very clear  about what she does. I was so desperate to help my dog that I was happy to have her try anything! (We'd already tried several obedience trainers, with no changes in Autumn's aggression).
Our first session was almost three hours long, and by the time we were done, my dog was on her way to overcoming her severe aggression. Cathie explained how I needed to communicate with Autumn and then demonstrated exactly what she meant . I told her during our first session that my ultimate goal was to  be able to take Autumn to the dog park ( something we've haven't been able to do for almost 2 years because her aggression was so extreme and dangerous) and Cathie told me that we would be able to take her by the time she was done working with us.. After two more two hour sessions, Autumn was at the dog park! it was amazing to watch how easily Cathie understood why Autumn was so aggressive ( anxiety and fear), and show me to be a more benevolent helper for her.
My dog is never going to be perfect- she will always require watching and help from us  to keep her and other safe. But since Cathie helped us, she is happier and more calm and obedient than ever. I feel secure about taking her for walks ( it was  always really scary doing this before- I worried about her hurting or killing other dogs, or hurting people), and I can finally enjoy spending time with her at the park , taking long walks, in the car- all the things we couldn't do before. I finally feel like I have a real companion not just and animal, in my house, that I was responsible for. We've bonded now for the first time, and I absolutely adore how eager she is to go outside and play. We even took our first excursion back to the dog park this week , and there were no problems!
For anyone looking for help with their dogs, whether they are aggressive, anxious , fearful, or just out of control, Cathie Harvey is the person who can help you.And if it can get any better, I could actually AFFORD her! I'm a grad student living on student loans and a little bit outside income, and Cathie fit right in my budget. I recommend her wholeheartedly, and hope that others get to experience the kind of transformation that I saw in both my dog and myself.
Thank you for reading my note. I hope that this helps you as much as Cathie helped me!. Call her if you want to see great changes in your dogs. Good luck!
Mara | Winter Park | 06/21/09
Dear Cathie,
My husband and I were really impressed with your visit and your loving expertise for our beautiful Sophie. We also appreciate Flick's calming presence. You and Tom make a great team, making sure the animals have a good environment to thrive.
Sincerely,Pat and Jan
Ormond Beach, 9/2010
Catherine was great! She was so informative and taught both Gunner and I so much! She clearly has a deep connection with animals and it was so comforting to know my dog was in good hands.
I would highly recommend her!
Stephanie and Gunner 11/14
Brutice is doing great, he stopped chewing my shoes and he is a breeze to walk, no more pulling. You are awesome!
Julian | Orlando | 8/17/09
I'm writing this post in the hopes that it will be helpful to other dog owners looking for some help. I have a beautiful pitt mix puppy, named "Paperclip" whom I love. My husband and I decided to take him to Petsmart for some training classes because we wanted  to make sure he is well mannered and a great example of how wonderful a pit-bull can be. When we  arrived we met the trainer that was " experienced " in working with large "aggressive" breeds. After speaking for a few minutes he asked us to explain the issues we were having with Paperclip; We explained that one of the behaviors we would like to correct was his jumping on people. He told us that the solution was easy and that he would show us. He took a bottle of water and then grabbed my dog's leash. He turned to Paperclip called him by patting himself on the chest,then when my dog jumped up HE SPRAYED HIM FULL ON THE FACE WITH WATER.The look on my dog' s face was heartbreaking, he looked alarmed and  looked at us full of confusion. He couldn't understand why he was sprayed for doing what he was asked to do. It was very obvious that this so called trainer had no idea what he was doing. After a few more minutes I realized that this guy would do more harm than good if I allowed him to spend anymore time with my dog
I continued to look for trainers then I found the add that I pasted below. I called the number and met with Cathie who came to my house to meet with my husband and I and Paperclip. I want to say that she is WONDERFUL , we love her and we have already begun to see a change in Paperclip and she only has been with us once. We found her to be honest, straight forward and passionate about helping dogs, I highly recommend her to anyone who wants to develop a better relationship with his or her dog. She is meeting us today for another session and we are as excited as my dog. I hope that this has been helpful and that it helps get people away from the nightmare that is "dog training at "Petsmart."
Lorena | Orlando
I am happy to say SASSY is doing great. She has turned out to be a
great dog. She plays with my sister in laws' golden retriever well, although she doesn't like my friends french bulldog he is way to hyper and very dominant. She is great with the kids and I sure am glad we stuck it out with her. It has taken some work but thanks to you we have a great family pet!!
Thank you again!!
Jennifer | Deltona | 01/07/09
Thank you, Cathie!
We have been non-stop talking and discussing your visit with us, comparing notes, and reminding each other of the many things you taught us and showed us. (We are also bragging to friends and family about how we have our very own Dog Whisperer!)
Thank you, again, for what you have done for us and for Jerry! Your talent is only matched or superseded by your kindness and charm.
We look forward to seeing you again.
Fondly,
Mark
Orlando: 02/2010
Hello Cathie,

Just wanted to drop a line to let you know about Caramel's progress. Since you recommended the daily bike ride, he has been a lot more calm.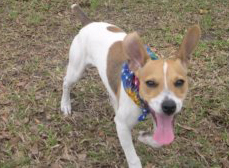 Thank you for being there for us. we could never have done it without you. He is doing so much better now that we even took on vacation to the beach with us!!!
Rita |  Orlando |  6/22//09
                                                                                                                                                                                                                "Thank you for caring about us. You are loved by us, you were such a help today, the pups love you so much.
Love,
Marlie, Chance and Justin"
 Cowboy ,18 month old muttegry: Cowboy came from  an abusive home and had to learn to be a dog all over again. He was adopted by Teresa who owns a ranch . After attacking and biting her horses, Teresa was very distraught by what she was seeing. Thanks to her diligence patience and working on her OWN energy and state of mind, here are the results: 
Cathy: "YOU REALLY HELPED ME UNDERSTAND HOW IMPORTANT IT IS TO PUT ALL POSITIVE IN WALKS AND EVEN WHEN HE WAS A BIT GRUMPY AT SOONER BEHIND THE FENCE.  I TOOK HIM TO SANFORD, ON THE LAKEFRONT, TO MEET ALL KINDS OF PEOPLE AND DOGS AND HE WAS AWESOME….EVERYONE LOVED HIM…EVEN THE BIG WHITE BULL DOG! 
THANK YOU CATHY FOR WORKING WITH ME ON MY PROBLEMS!! 
FOREVER YOUR DOGGIE BUDDIE!    T"
Orlando 5/2010